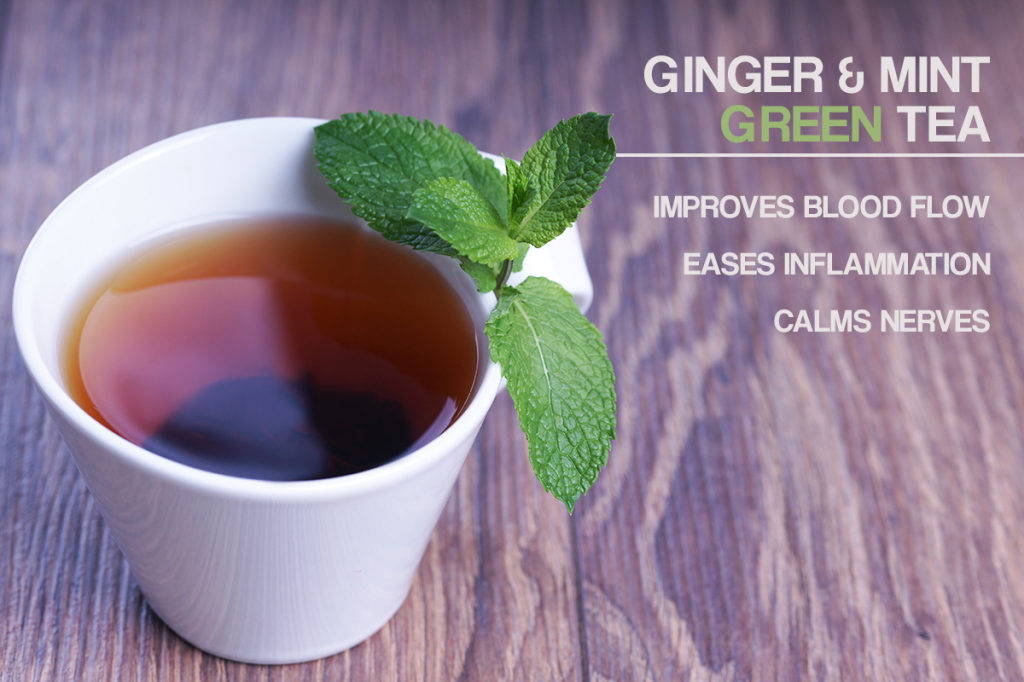 This soothing green tea recipe will do more than just warm you up! Green tea helps promote better circulation, and the gingerol compounds in gingerroot are powerful anti-inflammatories that can help ease inflammation.
On top of that all, the theanine in green tea helps calm the nerves and promote relaxation in the body. Additionally, Swiss researchers discovered that those who regularly drink green tea have greater activity in the working memory area of their brains – so it's good for the mind too!
Recipe:
2 oranges
1 piece gingerroot (approximately 3-4 inches)
2 bunches spearmint (without stems)
1 cup green tea leaves
Tea Mix Instructions:
Peel rind from oranges and place on a rack. Cut ginger root into thin slices and place on a rack. Remove leaves from spearmint and place on the rack. Let dry at room temperature until brittle (usually about 24 hours). Break into 1-inch pieces.
In a bowl, mix together orange rind, ginger, mint leaves, and tea leaves. Spoon into an airtight jar. (Makes about 30 servings).
Drink Instructions:
When making tea, determine how much tea you wish to make. As a general guideline, use one teaspoon of Ginger & Mint Green Tea mix per one cup of water.
Measure the desired amount of mix and place in tea strainer or sieve.
Measure the desired amount of water and heat it in pan or pot to desired temperature (around 180 degrees Fahrenheit).
Hold tea strainer or sieve with tea mix over an empty glass or mug and pour the heated water through a strainer into a glass (over the leaves).
Steep the tea mixture for 2-3 minutes then remove strainer or sieve from the glass. Allow the drink to cool slightly before drinking.