Sorry, this sale has ended! Stay tuned for more great offers & discounts!

---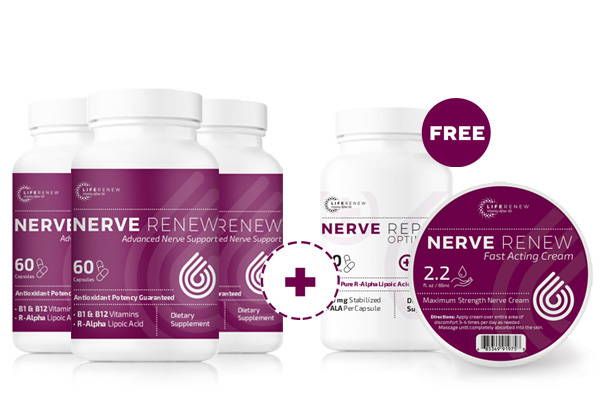 3 bottles of Nerve Renew (Reg. $201) PLUS a FREE Nerve Repair Optimizer & Cream ($56 value)
Reg. Price: $201
SALE: $147
Plus FREE Bonuses ($56 value)
FREE Nerve Repair Optimizer + Nerve Cream
with purchase of discounted 3-bottle bundle of Nerve Renew
Save $60 off the reg. price of a 3pk of Nerve Renew PLUS get a free bottle of Nerve Repair Optimizer AND Nerve Renew Cream $56 value)!
That's a total savings of $116!
You'll get a 3-month supply of our powerful Nerve Renew supplement to help reduce the symptoms of your neuropathy.
Plus, accelerate your relief with your FREE Nerve Repair Optimizer AND Fast-Acting Nerve Renew Cream.
But hurry, this offer ends soon!
*Limit one per customer. May not be combined with other promo codes.
What other Nerve Renew customers are saying...